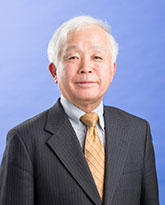 My name is Naoki Okumura, and from April 1, 2013, I became the new president of the Japan Aerospace Exploration Agency (JAXA).
I have been in the technological development field and engaged in corporate management. Over the last six years, I have also been an executive member of the Council for Science and Technology Policy to deal with Japan's national science and technology policy to create innovation in Japan. I would like to strive to contribute to further development of Japan's aerospace field by using my experience in a private company and policy planning. I believe that the aerospace field has limitless potential in improving people's lives and industrial development let alone in the science and development area.
JAXA has succeeded in various missions that are highly recognized internationally including consecutive successful rocket launches, the return of the Hayabusa probe to Earth, manned space activities at the International Space Station, and space science research. Thus JAXA has contributed to the improvement of Japan's research and development and Japan's national strength while serving as a global leader.
When we look around the world, however, in addition to the U.S. and European countries, it is remarkable that emerging economies are also rising in the aerospace field. Domestically, the environment surrounding JAXA has also been drastically changing. The Basic Space Law has been reorganized and the JAXA law was also reviewed. In addition, the Basic Plan for Space Policy was re-evaluated in January.
JAXA is expected to play a greater role than ever before as a core implementation organization to technologically support overall government space development and utilization, including safety and security areas, disaster preparation, and industrial development, in addition to our conventional tasks at the aerospace and science frontier.
In such a changing environment, JAXA will fulfill the roles we are expected to play with fresh determination aiming at the "expansion of space application" and "ensuring our autonomy," which are stipulated in the Basic Plan for Space Policy.
I would especially like to place emphasis on the following three points in order for JAXA to be responsible for a broad field covering various roles from aerospace basic research to rocket launch and space utilization.
1) To fulfill a role as a "core implementation organization to technologically support the government" stipulated in the Basic Plan for Space Policy, we will boldly tackle new tasks and challenges.
2) While addressing various research and development, we will live up to people's expectations by achieving internationally high-level results and accumulating success, as well as through efforts to maintain and improve international competitiveness in the mid- and long-term.
3) In addition to attaining its mid-term target, JAXA needs to generate high-value projects from new ideas and concepts, and make a proposal to the government that can lay the foundation for future space development.
Without being content with the fact that we have been producing various splendid achievements, it is necessary to set a benchmark among our rivals, such as organizations, researchers, engineers and alternative technologies, as well as to maintain and enhance our mid- to long-term competitiveness in order to succeed in global technological R&D competitions. I believe this is JAXA's responsibility.
I would like to devote myself to the development of Japan's aerospace R&D.
Your continued support and cooperation is highly appreciated.
Thank you very much.
Naoki Okumura