Q. What are your expectations for space exploration in the future?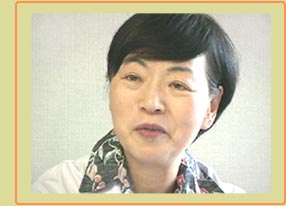 Biology is quite interesting to me, but when I look at it from a scientific perspective, it is less so. Newton's Law of Universal Gravitation can be applied to both a falling apple on the ground and a moving star at a great distance. But the life that we are studying now is something that was born on Earth, and is possibly something unique.
What we call organisms all reproduce and increase their species, and also metabolize and evolve. If we could find such creatures on another planet and study them for similarities to and differences from life on Earth, it would make biology universal. In order to establish a biology that holds true throughout the universe, I'd like an opportunity to study life beyond this planet.
The first life on Earth was a cell, and such a wide variety of creatures has been born from it. I'd like to think that on another planet there is some life similar to that on Earth, which has a long history.
When we explore the solar system today, water is the key to determining the possibility of life. Creatures like us were born on this planet thanks to water. Imagining lifeforms that are similar to us, it seems to me a natural assumption that water, or traces of the existence of water in the past, is the key to finding life.
Also, it has recently been discovered that there is dark matter in space, much of it containing carbon. Since carbon is present, there is a possibility that DNA similar to that found on Earth might exist elsewhere. This is just speculation, since life elsewhere may be totally different.
Thus, space exploration is linked to questions of biohistory.

Q. What made you interested in biology?
I first studied chemistry. I had enjoyed thinking logically since I was a child, and found it interesting that a chemical reaction could create a whole different substance. In fact, in high school I never liked biology, because it required only memorization.
Then, in my first year of university, I read a book about the dynamism of biological metabolism, and thought biology was interesting. In my third year, I got fascinated with the shape of DNA and got more interested in biology. The structure of DNA's double helix was so beautiful, and the fact that it was in my body was very mysterious. I wanted to see if such a beautiful thing really existed in the molecular world, and I even made a model of the DNA structure with my classmates using bamboo strips and paper clay, copying an illustration we had borrowed from our professor. I believe that it was Japan's first DNA model.
Later, I was reading a book on the history of life, which was a translation from Italian. The book said there was a significant difference between agnatha and gnathostomata - organisms I had had to memorize in high school biology class. When creatures did not have jaws, they had no choice but to eat the plankton that flowed into their mouths. Later, some developed jaws, and that allowed them to chase, catch and eat prey. When I learned that, I was completely impressed by these jaws, because the ability to catch food means that there is a transformation from being passive to active. I wish I had learned that in high school, because I am sure it would have made biology far more interesting to me. This is what today's education is missing: schools should teach not just facts, but also fascination with the wonders of nature.