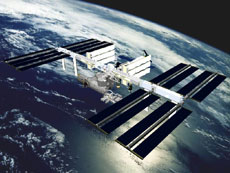 International Space Station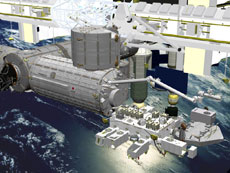 Japanese Experiment Module Kibo
Q. The space agencies of the world have big financial responsibilities for the International Space Station project. How can we make this project meaningful despite those difficulties?
The International Space Station has been a troubled project since it was first announced in 1984. It took a long time to get a good design. I must say, from a U.S. perspective, the most reliable partner of the United States in the space station program has been Japan. Japan identified in 1984-85 that it would build the Japanese Experimental Module, the Kibo. It stayed with those plans consistently for all the ups and downs and problems in the program.
The United States brought Russia in as a partner in the 1990s. I think that was a positive move, but it also delayed the program. Then we finally started construction, with the first crew up there in 2000. Then we had the Columbia accident, which stopped assembly for three years. There was a threat - and I know this was a great concern in Japan -- that the Shuttle would not flying again and therefore not be able to launch the three elements of Kibo. Now, barring another accident, which I hope won't happen, Kibo will be launched. The rest of the space station will be launched and assembled. Then there's the issue of getting full utilization. Right now, people are doing just assembly and operating the station. So it's really only starting in 2009 and 2010 that you can start operating the station.
The U.S. has made the decision to change its priorities towards exploration and has left uncertain its future commitment to the space station. And I've been urging our government and NASA to pay attention to that issue, and lay out to the partners what the U.S. intention is after 2010 with respect to the space station, so there is some assurance to our partners that there will be opportunities for full utilization of the facility.
To spend all these years and all these billions of yen and dollars and euros and then not make full use of the capability to me is kind of stupid. And so I think there's a growing sense in the United States that this is the case, and that we need to craft a strategy together for station utilization. We have a problem - a problem of financial limits. Well, the Bush administration has told NASA to go back to the moon, and finish the station, and fly the Shuttle to finish the station, without budget increases. I think NASA's being asked to do too much with too little, and I'm hoping that the next government will recognize that and provide just a little bit more money to NASA. Just like JAXA would like a little bit more money from the Japanese government and the European Space Agency would like a little bit more money from European governments. Space doesn't really get enough funding to realize the ambitions of the people that are doing space.
I think as the station is completed, as utilization begins, as some good results flow from research on the station, I think there will be a recognition that this is a facility worth keeping, worth providing adequate funding for full utilization. So I'm very optimistic that ultimately it will turn out to be a good result.
Q. What field of space development do you think is the most important for the human race's future?
Well, it's a clich? but space is just a place. It's a place to do a wide variety of things. So I think, as we learn more of what can be done in space to benefit directly people on Earth, that will be one path of space development. The other is the long range, maybe even expansion of human presence and settlement off this planet, to make humanity a multi-planet species. Whether that happens or not, I think it's one of the interesting questions for the 21st century, whether we establish long-duration outposts on the moon, get to Mars, begin to perhaps stay on Mars for extended periods of time, or whether we find that there's nothing there worth staying for and limit ourselves to this planet. My own view is that there is a future for the human species in more than one place, and that what we're seeing, as we start the 21st century and as we start this outward movement back to the moon, is the beginning of what really would be a centuries-long process of humanity moving out into the solar system.
Q. You are also on a committee at the FAA regarding commercial space travel. What are you views on the current situation and the future of space travel?
This committee I'm on, called the Commercial Space Transportation Advisory Committee, was created as the United States government encouraged U.S. private industry to offer launch services to people who wanted to put primarily communication satellites into orbit. But that's changed in the past couple of years. The Office of Commercial Space Transportation is also responsible for setting up the rules for private space travel, also known as space tourism. And that seems to have the potential for lots of growth. The most recent projection I've seen is for people just going up and down very quickly, not going into orbit, but a sub-orbital flight. Which is a multi-billion-dollar commercial market for an exotic experience of having the chance to go into space, experience the view of the Earth from space, experience the lack of gravity, even if it's only for five or 10 minutes. Some project a market of 20,000 people a year by the year 2021.
Eventually I think there will be systems built by the private sector that will take people to orbit. We have one entrepreneur in the United States who is talking about building hotels in orbit. Many years ago, ahead of its time, the Japanese Construction Company Shimizu was talking about space hotels and space tourism.
I think that in the 21st century it will become possible for people to travel into space on a private basis, not just as government astronauts. And, that's clearly an exciting prospect.
Q. How should government agencies and commercial companies share the work of space exploration?
I think it's somewhat parallel to the relationship between government and the private sector in past areas of activity, where the government builds the roads, builds the infrastructure, and makes it possible for the private sector to conduct its activities. So the government has to pioneer space exploration. I'm one of those who do not believe that the private sector can have a leadership role in the return to the moon or going beyond that, but that it has to be a government project, hopefully based on cooperation among many governments. But that will make it possible for the private sector to experiment with particular kinds of activities, to see whether there can be a profit made.
So I think the relationship will be a partnership. Government can also serve as the customer for private services. We have a program just starting in the United States called Commercial Orbital Transportation Systems, COTS, in which NASA has put aside a half a billion dollars to help companies - and they've chosen two to try this - to develop systems for carrying, first of all, cargo to the space station, and eventually maybe even people to the space station. And if the private sector can develop those systems, then the government will buy those services rather than doing it on its own. So that's I think a very productive partnership between government and industry to stimulate a new industrial sector.