Living in space will require self-contained, sustainable supplies of water, breathable air, and food, as well as self-contained methods to process and recycle wastes.
In the Earth's ecosystem, there is material circulation: microorganisms decompose excrement to nourish plants, and plants are consumed as food by human beings and animals. We at JAXA are trying to artificially create such a system in space. New technologies can decompose all sorts of organic or combustible waste in a short period of time. Then, as in Earth's natural systems, the recycled wastes can be used to grow plant food for humans. When these technologies are established, they may be applied to help with waste and environmental issues on Earth.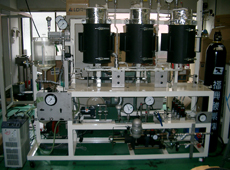 Organic waste recycling system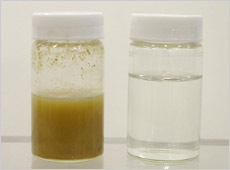 Shochu distillery wastewater treated by the organic waste recycling system (left: wastewater, right: generated water)
We have developed an organic waste recycling system to change food waste, wastewater, and human waste into clean water. Garbage and wastewater are mixed together and stirred in a sealed container. Air is added, then the mixture is exposed to high heat and high pressure. Approximately 50 percent of the organic waste is decomposed to produce ammonia and acetic acid. Then a catalyst (the same one that is used to clean automobile emissions) is added to the residual material, and water and carbon dioxide are generated. This water is clear, colorless, and residue-free. It is even potable after passing through a purifying filter. The water can also be used as plant fertilizer, because it contains inorganic components.
Americans developed a process to decompose organic material at high temperature and pressure in the 1930s. Some private Japanese companies attempted to recycle sewage sludge with this technology, but the result was not favorable; the water was brown and contained sludge residue.
Since then, a number of purification techniques have come on the market that use catalysts. In the technique developed by JAXA, a catalyst is added halfway through the waste disposal process. The technology has been transferred to the private sector, and JAXA is now co-developing equipment that will be able to process 10 tonnes of shochu (a type of Japanese alcoholic beverage) distillery wastewater a day.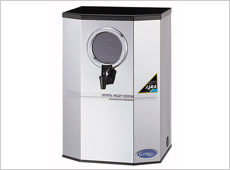 Water purifier with a reverse osmosis membrane - technology that has been transferred to the private sector
We are also developing a water recycling system to turn domestic wastewater and human waste into good drinking water that contains minerals. The system can be applied to purify water produced by the same organic waste recycling system we just described. Then, the water is filtered through a reverse osmosis membrane with a pore size of 0.1 nanometers (1 nanometer = one millionth of a millimeter). This is much smaller than the smallest virus that lives in water, so it is possible to produce highly purified water.
However, highly purified water does not taste good because it has no minerals, and it can harm your health over time if it is all you drink. Hence, our water purifier has a mineral supply function. The technology was originally developed for water recycling in space, but it has since been transferred to the private sector, and is now being applied to water purifiers used on the ground.
Global warming is causing water crises around the world in various ways. For example, rising sea levels are causing salinity to seep into fresh ground water, and water shortages are caused by unusual weather such as droughts, hurricanes, and tsunami floods that contaminate living areas for months. To ensure safe water, I would like to contribute to water and environment management with JAXA's water recycling technology.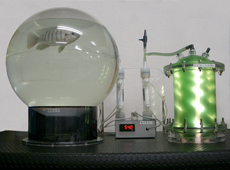 Carbon dioxide removal system using spirulina
Recycling air is essential for humans to stay in space for an extended time. Currently, oxygen is delivered from the ground to the International Space Station (ISS), and adsorbent materials are used to remove the carbon dioxide exhaled by humans. The problem is that if six astronauts are scheduled to stay in space for six months, the mission requires more than a tonne of adsorbent material, and the transportation cost is significant. This is why we are developing an air recycling system. First, we separate carbon dioxide from human exhalation and react it with hydrogen to produce water. The water is good for drinking, but also can be used to generate oxygen through electrolysis. It is a perfectly circular system, as humans inhale the oxygen and exhale carbon dioxide. We are currently working towards testing the technology in space.
We are also conducting research to develop an air cleaning technology that uses photosynthesis with a kind of algae called spirulina. Spirulina was one of the first species on Earth more than 3.5 billion years ago. The ancient Earth had abundant carbon dioxide but no oxygen, just like Mars today. Algae such as spirulina created an oxygen-abundant atmosphere here by changing the carbon dioxide to oxygen through photosynthesis. Spirulina has very high photosynthetic ability and produces a lot of oxygen. Spirulina algae may provide a great opportunity for us to significantly reduce a greenhouse gas that is a major cause of global warming.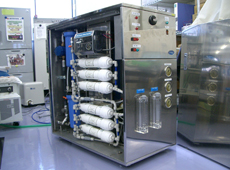 Water recycling system in development for future application on the ISS
Currently, water, air, and food supplies to sustain astronauts who live on the ISS are delivered from Earth. The transportation cost is significant. If some financial problem becomes an obstacle to launching a transfer vehicle, the astronauts will face dangerous supply shortages. To prevent this situation, it is critical to develop a recycling system for domestic waste created on the ISS. Currently, waste from the station is carried away every three to four months and is incinerated after reentry into the atmosphere. However, in 2008, NASA is planning to equip the ISS with a system that recycles urine into drinking water.
JAXA is collaborating with the private sector to research and design a water recycling system for use in space. It will be half the size of NASA's system, consume less electricity, and require only eight hours to process about 200 liters of domestic wastewater and urine, which is the amount produced by six astronauts in a day. I am very much looking forward to testing the system in the Japanese Experiment Module Kibo. And, in the future, I hope it will be used at a base on the Moon, and on Mars, when the time comes for an extended stay or migration there.
I would like to implement wastewater recycling technology for domestic use. Multiple dwellings in close proximity, such as apartment units, could share one waste disposal unit.
1. Food waste would be finely ground by a disposal unit installed in the kitchen sink, and flushed into the drain pipe.
2. This will be mixed and treated together with wastewater from the toilet, laundry, and bath.
3. The resulting water could be immediately used for flushing the toilet, or, with further purification, for drinking and bathing.
The processed water would also make excellent plant fertilizer for hydroponic cultivation of safe organic vegetables.
Realistically speaking, I think that the best initial users for an Earth-based system are local governments. It may be too difficult and costly to install this technology in homes right away, but large multi-dwelling complexes might be built with this technology in mind, with appropriate plumbing and pipe systems installed from the beginning.
This technology is a sound alternative to landfills or burning, for the following reasons:
- It is increasingly difficult to find open areas for landfill sites.
- Burning garbage raises concerns about harmful combustion emissions.
- This organic waste recycling system needs only one quarter of the area of a conventional system at a sewage plant.
- It is odor-free, since sewage is treated in a perfectly sealed environment.
- It costs less than one tenth of conventional incinerators.
- The heat generated from this system can be used to heat homes.
I believe that this original Japanese recycling technology will not only benefit local governments in Japan but will also help solve global environmental problems.
Mitsuo Oguchi
Senior Researcher, Innovative Technology Research Center, Aerospace Research and Development Directorate, JAXA
After graduating in 1971 from the School of Engineering at the Department of Aeronautics and Astronautics, Tokai University, Mr. Oguchi joined the National Aerospace Laboratory of Japan (NAL, now part of JAXA), where he worked on development of inertial guidance systems for rockets. After that, in response to the proposal for the construction of the International Space Station, made by United States President Ronald Reagan in 1984, Mr. Oguchi began research on air and water recycling technologies for space application. Since then, he has successfully developed a water recycling system, an air recycling system, and an organic-waste recycling system that turns waste into water. His current focus is on development of a water recycling system for space applications, and on space education.