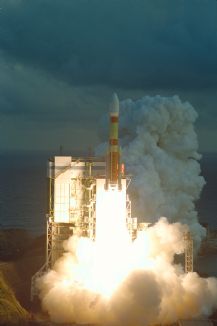 The H-II launch vehicle, the central rocket in Japan's space program, with the capability to launch a two-ton class satellite into geostationary orbit, is a two-stage rocket that was developed with Japanese independent technology in all stages. In addition to geostationary satellite, it can also be used to launch payloads into low and medium-altitude orbits. For greater economy, it is possible to launch simultaneously two geostationary satellites weighing about one ton each.
The 1st stage has a large, high-performance liquid oxygen/liquid hydrogen engine known as the LE-7. Newly developed for the H-II launch vehicle, it offers propulsion of approximately 110 tons in a vacuum. The 2nd stage uses the LE-5A engine. This reignitable engine offers higher performance and reliability than the LE-5 engine developed for the H-I launch vehicle. The guidance system employs an inertial guidance method, a further improvement on H-I development results.
The H-II launch vehicle, since the first successful launch in 1994, was utilized in a total of 7 launches. Due to launch failure of the vehicle No.8 in 1999 came next to unsuccessful injection of the satellite by the No.5 in 1998, scheduled launch of the No.7 was cancelled, but the technology used in developing the H-II will be exploited for developing H-IIA.
---
Principal Specifications
| | |
| --- | --- |
| Overall length | 50m |
| Diameter | 4m |
| Total weight | 260.0t (not including payload weight) |
| Guidance syst | Strapped-down inertial guidance system |
Launch Records