Goals of new solid propellant launch vehicle Epsilon
By Yasuhiro Morita, Epsilon Launch Vehicle Project Manager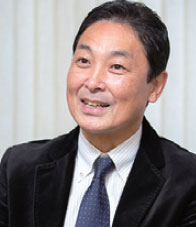 The year 2013 is a joint celebration for the 10th anniversary of both the launch of the Hayabusa by M-V launch vehicle No. 5 (May 9, 2003) and the founding of JAXA.
The Epsilon Launch Vehicle shoulders an important role of passing down Japan's solid propellant launch vehicle research history and tradition that have been continuously inherited since the Pencil rocket to the future ultimate launch vehicle. I am so happy that such an important launch vehicle is finally about to be launched this summer.
So what is the ultimate launch vehicle?
You can imagine a number of configurations such as the one vertically taking off and landing, something following as an extension of an airplane with wings, or a space plane that changes its shape on outward and homeward journeys. Whatever shape it is, a prerequisite to be named as an "ultimate launch vehicle" is that a vehicle must be perfectly reusable. In other words, how to secure the homeward journey is an issue. Currently, an expendable launch vehicle is much less expensive, thus it may take some time for the arrival of the "ultimate launch vehicle." On the other hand, the launch system has been renovated to be compact by minimizing necessary equipment and by having an operation system based on a concept to become a key for opening a door to the future. In that sense, I can confidently tell you that the Epsilon is the first step that leads to the future transportation system for frequently making round trips to space.
The novelty of the Epsilon is symbolized by its drastically reduced launch campaign period. It takes only seven days from erecting the first stage at the launch site till completing post-launch operations. It is a major reduction compared to 42 days for the M-V launch vehicle, and it is actually one of the shortest campaigns among other countries' launch vehicles. This became possible by introducing an automatic and autonomous checking system and reducing hazardous operations as much as possible so that dramatic electricity and manpower savings have been achieved. Moreover, we still have some room to additionally decrease the campaign period significantly with further improvements.
The key point here is network technology. We plan to apply a communication standard called "Rocketwire" to the second generation Epsilon. In the satellite field, a communication standard named "Spacewire," which exchanges data and control signals between modules and/or units, is commonly used. It is an expansion of the standard for personal computers and video cameras like i.LINK and Firewire. Spacewire is used inside a satellite structure thus the distance between modules/units is a few meters at most. We plan to adopt "Rocketwire," which is further improved for fitting launch vehicle characters based on Spacewire, by extending communication distance and enhancing redundancy.
Spacewire and Rocketwire are very congenial to many kinds of networks, hence a comprehensive test is possible by connecting satellite modules/units and launch vehicle control devices via networks even though they are still in their respective factories. As we can perform checks and tests while they are in their factories, the required operation period at the launch site can be shortened. We aim at reducing the launch site campaign from seven days for the first generation Epsilon to three for the second. Making the launch vehicle more intelligent will significantly contribute to achieving this goal, then we can say that the Epsilon literally is a launch vehicle that can go to space and meet your needs whenever you need it.
In order to broaden the scope or our users by lowering the threshold, a launch vehicle has to be a user-friendly transportation means. The Epsilon project aims at being at a global-leading level concerning the final access for users to their payload prior to its launch, and hopes to make it possible even up to three hours prior to liftoff. Such last minute access is very helpful for high-performance telescope satellites which usually require cooling until just prior to launch. Our hard work is about to bear fruit as engineers both for the launch vehicle and ground facilities have been studying launch preparations on the launch day from all possible view points, proposing all feasible ideas, and actively discussing problems for the development.
The M-V as well as H-IIA launch vehicles achieved splendid success and are rockets that Japan can proud of after bitter failures. The Epsilon, which inherits features of those two launch vehicles, is a novel rocket based on the world's newest idea of renewal concept of a launch vehicle. I hope as many people as possible will join our countdown of the first Epsilon launch vehicle scheduled for this coming summer. (Based on an interview)
Reprinted from JAXA's 048 (Seasonal magazine) dated January 1, 2013 with minor editing.