September 27, 2010 Updated
MICHIBIKI injected into the quasi-zenith orbit with its center longitude of about 135 degrees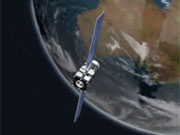 The First Quasi-Zenith Satellite MICHIBIKI, which was launched by the H-IIA Launch Vehicle No. 18 on Sept. 11 (JST,) has been maneuvered to shift its orbit from the drift orbit to the quasi-zenith orbit starting on the 21st. The satellite is now confirmed to be inserted into the quasi-zenith orbit over Japan with its center longitude of about 135 degrees through the final orbit control performed at 6:28 a.m. on Sept. 27.
We will carry out initial functional verification of the satellite including the onboard devices for about three months in cooperation with organizations for technological verifications.
---


Images captured from the webcast.

JAXA broadcast the launch of "MICHIBIKI" by the H-IIA F18 from the Tanegashima Space Center through the Internet.

The live report of the launch on the launch day. (Mitsubishi Heavy Industries - H-IIA Launch Service Web Site)