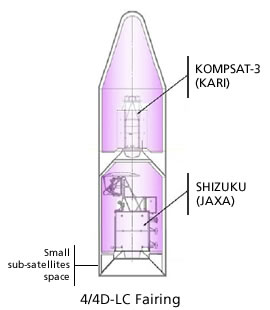 Outline of H-IIA Launch Vehicle
The 21st flight of the H-IIA Launch Vehicle (H-IIA F21) is an "H2A202" type with two solid rocket boosters (SRB-As) attached. The4/4D-LC (4 m in diameter) type fairing is applied.
Missions of the H-IIA F21
The launch vehicle is slated for injecting its main payloads "SHIZUKU" and "KOMPSAT-3" in their scheduled orbit. Also it will carry two more small co-payloads to orbit using extra launch capability. After inserting its payloads into their respective orbits, the H-IIA F21 will further perform second stage flight experiments for acquiring technological data of its propellant system in order to upgrade our mainstay rocket as part of our efforts to continuously improving the H-IIA.
Also in this flight experiment, we will test the effectiveness of vapor reduction by coating the second stage liquid hydrogen tank outer surface with white paint, and acquire technological data on the second stage engine precooling status.
H-IIA Launch Vehicle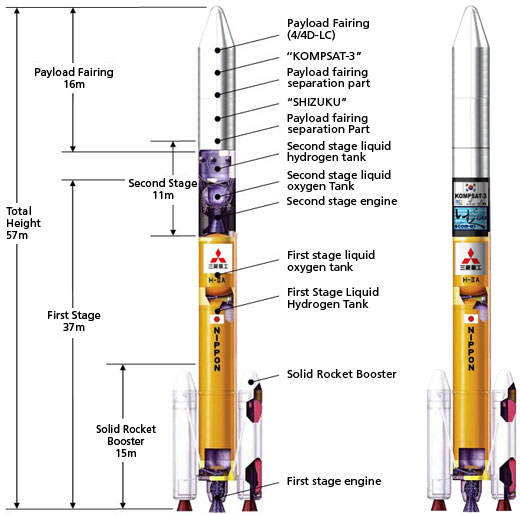 F21 Launch Sequence
Event
Time
(min:sec)
Altitude
(km)
Inertial speed
(km/s)
1
Liftoff
0:0
0
0.4
2
Solid rocket booster burnout*
1:55
51
1.5
3
Solid rocket booster jettison**
2:5
59
1.5
4
Upper fairing jettison
4:10
148
1.9
5
1st stage engine (main engine) cutoff (MECO)
6:36
301
3.6
6
1st and 2nd stages separation
6:44
313
3.6
7
2nd stage ignition (SEIG)
6:50
322
3.5
8
2nd stage engine cutoff (SECO)
15:26
676
7.5
9
KOMPSAT-3 separation
16:16
676
7.5
10
Lower fairing (adapter) jettison
19:21
679
7.5
11
Lower fairing (cylinder) jettison
19:26
679
7.5
12
SHIZUKU separation
23:11
683
7.5
13
SDS-4 separation
33:20
696
7.5
14
HORYU-2 separation
50:00
692
7.5
*) When the maximum combustion pressure reaches 2%
**) Thrust strut cutoff