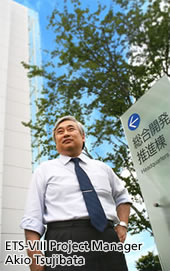 Everybody still has a vivid memory of the huge earthquake that hit the Niigata-Chuetsu area in Japan. Although people's safety had to be confirmed and rescue operations had to be started as soon as possible, the exchange of information was hampered due to the breakdown of communication networks. When the images of the disaster-stricken area were finally transmitted to us on TV, I clearly remember that they made me feel strong regret. "If the KIKU No. 8 (ETS-VIII) had been developed earlier, rescue operations would have been smoother." It is my big challenge, or even my lifework, to provide an environment in which people can securely communicate with each other at all times in whatever situation.
The KIKU No. 8 (ETS-VIII) is a very demanding project that requires an extremely high level of technology to maintain the high precision of the enormous reflectors. Only two countries in the world have acquired the design and manufacturing technologies of large antennas (Japan and the United States.) As long as I am involved in such a cutting-edge project, I will strive to overcome any difficulties and develop global-leading technologies.
The success of this project will definitely help in satisfying this sense of achievement. We will overcome challenges and technological limits to pioneer the field of next generation communication satellites and to provide better services.
From my experience with the communication satellite project, the KIKU No. 6 (ETS-VI) project, I hold the theory that "a communication network is a country's nerve system." It is extremely important for Japanese people to stabilize the communication infrastructure to transmit accurate information not only for our daily lives but in terms of disaster preparation and social security.
Although it is a challenging project that requires level-headed judgment and a strong challenging spirit for future technology, I will do my very best to develop a safer, securer society.