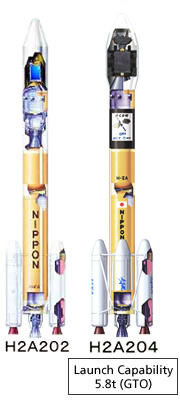 The H-IIA Launch Vehicle No. 11, whose payload is the "KIKU No. 8 (ETS-VIII)" is the "H2A204" type. This was the first time for the "H2A204" type to be launched.
The "H2A204" type is equipped with four solid rocket boosters (SRB-As), two additional ones to the conventional H-IIA, to increase the launch capability of a satellite into geostationary transfer orbit to about six tons.
The "H2A204" is mostly based on the design of the conventional H-IIA series. It was developed and operates as a member of the H-IIA family.