The Engineering Test Satellite VIII "KIKU No.8 (ETS-VIII)" will enable communications between two moving small terminals that are about the same size of a current mobile phone thanks to its onboard large deployable antennas which are among the largest in the world.
This function is expected to be very useful in our daily lives, for example in some mountainous areas and at sea where no ground stations are available, as well as for smooth operation of emergency vehicles and a quick rescue of disaster victims.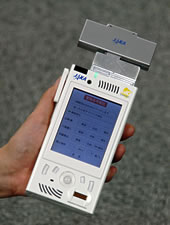 - Ultra-small mobile terminal
This ultra-small mobile terminal developed by JAXA can transmit information from mountainous areas, the sea, and disaster-stricken areas by directly communicating with the "KIKU No. 8."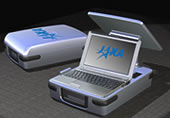 - Portable Terminal
This terminal developed by JAXA as a ground terminal for experiments with the "KIKU No. 8" is also portable. It is about 257 mm x 364 mm and 8.2 kg in weight with a communication speed of 512 kbps via its built-in antenna. The speed can be increased up to 1.5 Mbps by using the external antenna whose diameter is 1.2 m.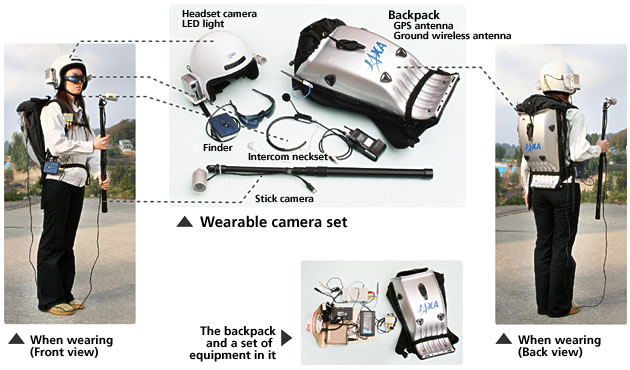 An operator wearing a wearable camera in a disaster-stricken area transmits images taken by the video camera on a hardhat and by a stick camera, with location information acquired by the GPS antenna, to a nearby portable terminal via a ground wireless antenna. The portable terminal will then send the images and information to an anti-disaster headquarters and other on-site operators via the "KIKU No. 8" for a quick response led by headquarters.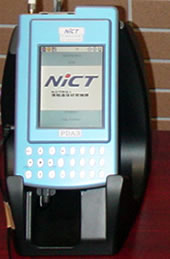 - Mobile satellite terminal (developed by NICT)
Through this mobile satellite terminal developed by National Institute of Information and Communications Technology (NICT), voice communication is possible via the "KIKU No.8."
With the huge antennas of the "KIKU No. 8," the size of the satellite terminal has become smaller than a conventional one.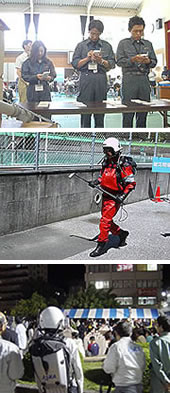 - Satellite communication system demonstration
On September 3, 2006, a disaster information gathering demonstration was held by connecting the cities of Kochi (Kochi Prefecture) and Owase (in Mie Prefecture) via satellite communications using this system. The communication environment of the "KIKU No. 8" was simulated for the demonstration to exchange information among multiple locations, namely safe shelters, disaster-stricken sites, and two headquarters temporarily set up in Mimase Public Elementary School in Kochi and in Owase Public Elementary School.
After the emergency drill held by each municipal city government under the hypothesis of an earthquake in the Nankai region and a consequent tsunami wave, over 150 residents of each city took part in the "information gathering demonstration" and experienced a disaster preparation drill using a future system that transmitted images of the disaster stricken areas and information in writing through the satellite communication system.
On Oct. 23, JAXA participated in a ceremony praying for the recovery of the city of Nagaoka, which was severely damaged by a huge earthquake in 2004, and demonstrated its satellite communication system. Images of the ceremony in Nagaoka, where participants made a silent prayer at 17:56, the moment the earthquake hit, and of the firing of a huge firework at 18:00 to mourn the dead in front of the Nagaoka Public Welfare Hall, were relayed by a wearable camera to the Yamakoshi region mourning ceremony site at the Yamakoshi branch of the Nagaoka City Hall.

Related links
- i-space
- National Institute of Information and Communications Technology (NICT)